Mikelle Drew
5 Essential Flat Sketching Tools In Adobe Illustrator for Fashion Design
5 Essential Flat Sketching Tools In Adobe Illustrator for Fashion Design
Jump to a video version of this blog
Adobe updates their software regularly. But no matter how much they update, there are certain tools that I always teach my illustrator for fashion design students.
Companies are going to update their software. That's a given when it comes to technology. But if you're using Illustrator for fashion design, there are 5 tools that no matter what, they are essential to your design workflow.
The Pen Tool
This one is a given. I cannot draw a flat sketch, even an illustration, in Illustrator without the Pen tool.
That might be a little annoying to those of you who are not fans and struggle with learning to use it, but I love it! And I'm not saying it's an essential tool just because I love using it.
When you draw a flat sketch, you need precision and accuracy, and even those who have a really tight and accurate hand when they draw on paper may not when it comes to using the Pencil tool in Illustrator which is one of the freehand tool options.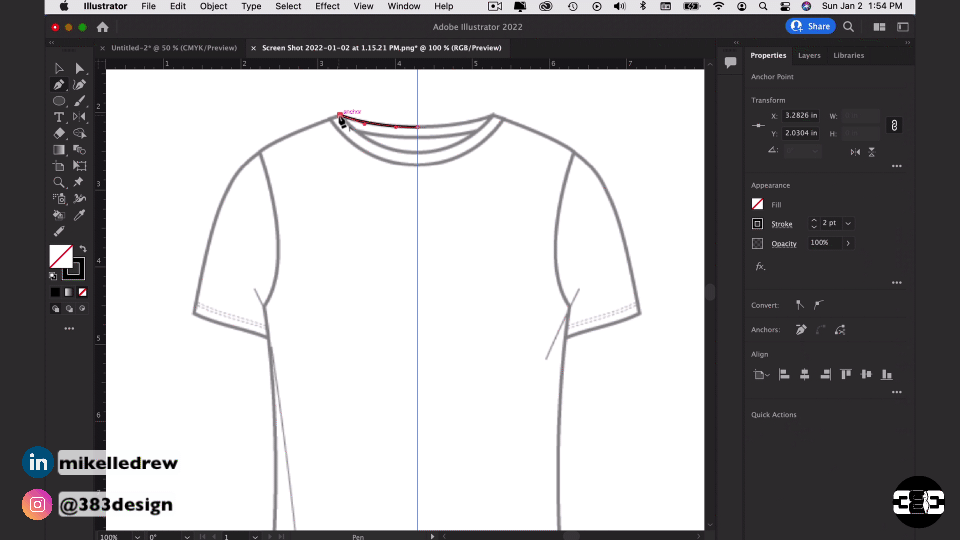 Use the Pen Tool in Illustrator for Fashion Design requires precision and accuracy
The Pen Tool is challenging to master. That's real talk. But you CAN master it if you practice using it. I guarantee it! Some people pick it up right away, and some people take a minute to grasp using it. The "trick" is to continue practicing and don't give up too soon.
But once you do get it, it'll be almost like you've never NOT used it, and if you were using the freehand tools and started using the Pen tool, your sketches will start looking so much more accurate, clean and precise. And you'll probably have a few less questions each time you hand over your sketch with your tech pack;)
The Shapebuilder Tool
This is a newer tool, but if you've watched any of my previous YouTube videos about drawing in Illustrator, you already know I'm a HUGE fan. The Shapebuilder tool does what many of us who learned to sketch in the early 2000's had to do manually which is to build closed shapes so you can fill your sketch with color and pattern.
Use the Shapebuilder tool in Adobe Illustrator for fashion design to create closed shapes.
The other thing I like about Shapebuilder is that it allows you to just draw your sketch. You don't have to dissect it and think about, "How am I going to draw this? What parts of this sketch am I going to draw as a closed shape?"
If you know you're using the Shapebuilder tool, you can just draw your design and worry about creating the shapes later. It's also a much more efficient way of sketching.
The Reflect Tool
One of the benefits of drawing on the computer is that you only have to draw half. Then, you can reflect what you've drawn to create a completely symmetric sketch.
The Reflect tool is a huge benefit of using Adobe Illustrator for fashion design.
The Reflect tool is essential for executing that process, and if you use the method I mention in this video, you'll not only have an exact duplicate of your sketch copied to the opposite side of your sketch, but it'll also be placed exactly where you want it.
The Selection Tool
This is the Black arrow, or should I say the black arrowhead because it no longer has a tail like an arrow. This tool selects objects, groups of objects and isolates a sketch.
Use the Selection Tool in Illustrator to select objects, groups of objects and isolate a sketch.
This is the tool you use if you need to select an entire sketch or isolate a grouped sketch so you can select just one part of it, say if you need to change the color of your sketch or part of your sketch, copy and/or paste the sketch. If you need to affect anything in Illustrator, you must select it first, and if you need to affect an object, you need to use the Selection tool.
The Direct Selection Tool
This is the White arrowhead. This tool selects points, parts of objects and edits curves. So if you want to select one point on your sketch, copy and paste one line that's already connected to other lines. If you need to edit what you've drawn because it looks a little wonky, this is the tool to use.
Use the Direct Selection Tool in Illustrator to select points, parts of objects and to edit curves.
This is also the best tool to join your sketch (despite other things that you might see that say you can join with the Selection tool).
There are always going to be new tools introduced, and it may seem like you're never going to learn it all. But here's the good thing: you don't have to!
Illustrator has some awesome bells and whistles that do some really cool stuff, but as a fashion designer, there are only certain tools that you really need. And the 5 tools I've just described are the main ones. If you can master those, you'll be good to go to sketch your fashion designs in Illustrator.
If you need to learn to use Illustrator for Fashion Design, sign up today for my Illustrator for Fashion Design Sketching: Level 1 online course today.