Frequently asked questions
CAD Courses
Are the classes live?
---
Yes, the live, online classes are taught by a live instructor. You will be able to interact and ask questions on the spot. The pre-recorded classes are not live, but there we do have online office hours where you can interact with the instructor to have your questions answered.
---
Do I need to go to school for fashion design before I take a class?
---
No, you don't need a design degree to take one of our classes. The class is for an absolute beginner so if you've never used Illustrator, don't worry! Some idea of sewing and construction is helpful, but you'll still be able to follow the class and learn how to flat sketch without it.
---
---
CAD for Fashion Design
Do fashion designers really draw on the computer? I thought fashion designers illustrate and sketch by hand.
---
Yes, most designers use Adobe Illustrator daily to do their jobs. The exception is that some high end, couture, or highly ornate (like bridal) design houses still do many things by hand. But if you are starting a business or working in corporate, having Illustrator and Photoshop (even InDesign) skills will be crucial to your brand and career. They can help you express your designs clearly to a pattern or samplemaker, a merchant, or a buyer. They can also help you create other sales, promotional and marketing materials including color CADs and fashion linesheets.
---
What is a tech pack?
---
A tech pack is the blue print for your design. They're extremely important to a fashion designer because an accurate tech pack can be the difference between a great or poorly executed prototype or sample.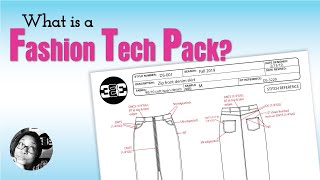 Designers use Illustrator to create the front, back and any detail sketches for the tech pack. Then, they will usually use Microsoft Exel (or a PLM system) to add the information for the BOM (Bill of Materials). This video from 383 Design Studio channel on YouTube gives you a clear overview of what should be included in a tech pack.
---
What does CAD mean in fashion design?
---
CAD is an acronym for computer aided design. Technically, CAD is the umbrella for any of the software that designers use for design. However, in the fashion industry, you'll hear this term often and it could mean several different things. Some refer to the pages designers create with flat sketches in color as "CADs". Some people refer to what's done in Illustrator and Photoshop as "cadding". You may see job postings for a CAD Designer or CAD artist, and that's either something that they'd want to work on Illustrator and/or Photoshop all day sketching and coloring sketches OR a person who can create stripes, plaids and (possibly) prints. As you can see, it really depends on who's talking.
---
How is CAD used in fashion design?
---
CAD (computer aided design) is used by fashion designers to help them visualize and communicate their vision and collections to their business partners and to their customers. Software like Adobe Illustrator, Adobe Photoshop, ProCreate, Clo3D, and Browzwear can help designers draw, color, add texture, create patterns and more!
---
What is the best fashion design software for beginners?
---
If you want to learn digital fashion design, Adobe Illustrator is the best option. Fashion designers use it daily to draw flat sketches and create tech packs. If you are looking for work in the fashion industry, this is one of skills most companies look for in a corporate designer. And if you want to start a fashion brand, Illustrator is very versatile and can help you create your designs, graphics, textile patterns, marketing & promotional items and more!
---
---
Illustrator for Fashion Design
Is Adobe Illustrator good to use for fashion design?
---
Adobe Illustrator is a great tool to use for fashion design, particullarly for flat sketching. All designers need to create a technical flat sketch of their design so that it can be sampled or produced. A flat sketch is placed on a tech pack and often a CAD to display the details of your design.
---
How do you make a fashion illustration in Illustrator?
---
There are lots of tools you can use for digital fashion illustration. If you choose to use Illustrator, here is a great video on how to draw and color your illustration.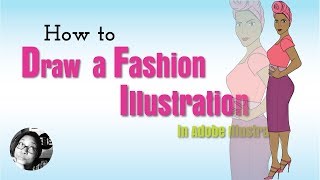 ---
---